Organizer's project

This zone features three food trend themes with the newly added "Freezing × Food".

"Freezing x Food"
The growth in sales floor space and demand for frozen foods is expected to continue, triggered by changes in lifestyles, and frozen foods/ingredients are one of the most important sectors, along with prepared foods, for supermarkets.
The "Freezing x Food" zone aims to contribute to the development of the frozen food and frozen ingredient market by providing visitors with the latest foods, equipment, technology, and services related to the rapidly evolving frozen food industry.
"Freezing x Food"-Foods, equipment, technology and services related to freezing-
Frozen prepared meals / Cooked frozen foods / Frozen meal kits
Frozen noodles / Frozen snacks / Frozen rice / Frozen bread
Ice cream /Frozen desserts / Frozen sweets / Ice
Frozen ingredients (fruits &vegetables, stock farm, fisheries, mixed products)
Private Brand (PB) frozen foods
Frozen foods prepared under the supervision of famous chefs and restaurants
Frozen meals of local and regional products
Refrigeration-related equipment and technology(Freezers (home-use and business-use), frozen showcases, frozen vending machines, microwave ovens, ovens, freezing machines, thawing equipment, etc.)
Information, services, and others related to freezing
"Beauty & Health × Food" - Products to help building a beautiful and healthy mind and body -
Diet (low-carb / low-calorie)
Body building (high-protein / high-nutrition / low-fat)
Beauty (beauty / anti-aging / super food)
Health oriented foods (low-salt / low-glycemic foods / allergy-free)
Mental health care (relax / stress-free / guilt-free)
Functional foods and beverages (Food for specified health use / foods with functional claims / food with nutrient function claims)
Health-care foods (supplements / health foods / foods for elders who need nursing care / quasi-drug)
"Sustainability × Food" - Sustainable products -
Plant-based foods / Alternative foods
Vegetarian / Vegan / Halal
Organic foods/ Natural foods
Sustainability
Environmental label / Certificated label
SDGs
Food loss / Recycle / Upcycle
Online services throughout the year

RETAIL TREND
The Product Search system provided by SMTS has been renewed as "Retail Trend," a year-round online service. SMTS Exhibitors will be able to register their products and services and will be used in conjunction with SMTS (real) to help exhibitors expand their business opportunities online. (There is a limit to the number of products and services that can be registered.) The contents for the overseas market will be expanded in the future.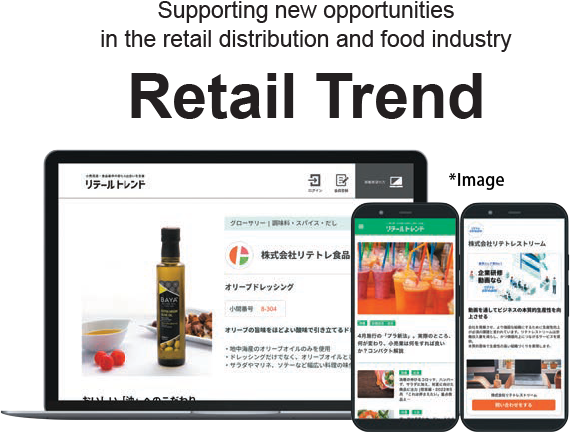 Hand-Made NIPPON
Theme zone displaying alcoholic beverages made in Japan
Craft beer, shochu, sake, and Japanese wine will be introduced, along with the thoughts and skills that go into making each product.